A few website ideas
AbcSubmit is a website creation tool for beginner and advanced webmasters. Website Builders are now available to everyone, even those without programming skills.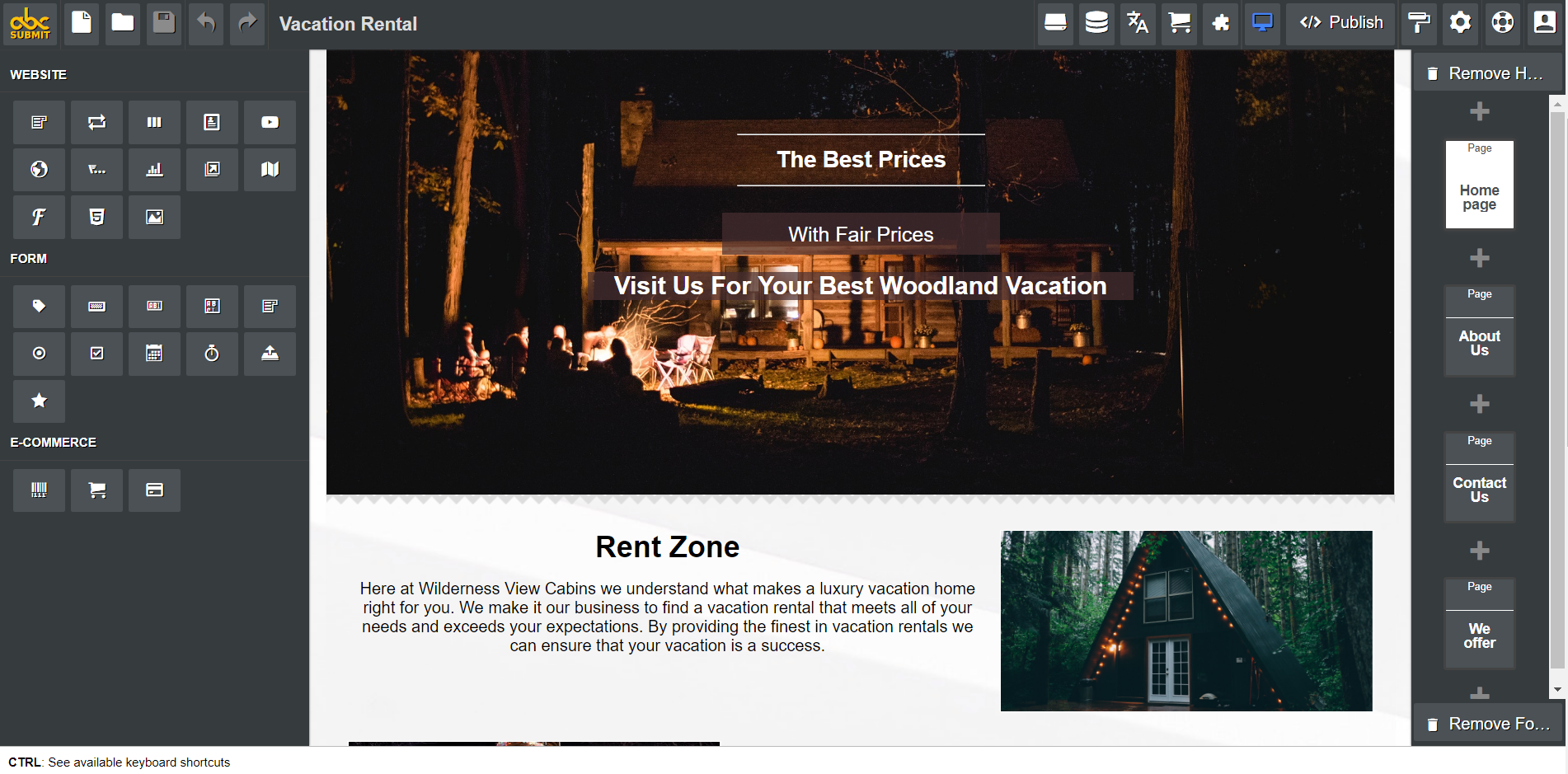 Here are a few examples of website categories to consider when creating your own website :
Personal Blog: Write about anything and everything in your life, for fun.
Your Own Company Website: Create a website for your small business and promote it through social media.
How-To-Do-Something website: Where you show people how to do something through a blog, like how to code a website.
Review site: Dedicate your blog on reviewing things, and become an Amazon affiliate to get paid while doing it!
Adventure blog: Where you document all your adventures of hot air ballooning, sky-diving and surfing. Buy a Go-Pro Camera.
Niche Site: Choose a focused topic and only write about that everyday. This is what this site is!
Online Portfolio: Of your illustrations, designs, or other unique talent(s).
Game Development Blog: Create a blog on making games and the development process. Get followers and loyal fans.
Painting / Art website: Sell your paintings on your own website that's connected to Paypal. Sell digital copies for cheap.
Frugal Website: How to save money as a college student, single mom or just show others how you can get rich by not buying anything.
Time-lapse Drawing website: Video time-lapse of you drawing a character with upbeat music. Sell your Artwork.
Video Game Website: Upload videos of your screen while you play your favorite game and gather a following on your YouTube / website.
Dream Interpretation Website: Create a site and let others submit their dreams, so that you can interpret them. Start a journal yourself.
Dancing site: Talk about dancing on your blog and have photos, videos and tutorials on how to dance.
Ask A Question Blog: Allow people to ask you anything, and answer them back.
Weight Loss blog: Document yourself losing weight and record everything that you do. Make a difference.
Scrap booking website: Show off your scrap booking skills on your own blog and teach others how to do the same!
Wedding Couples Site: Dedicate a site on you and your loved one with photos and sweet momentos.
Spin Online Class: Where you encourage others to spin with you while they watch your pre-recorded videos!
"Best of" Website: Write about the best of everything.
Playing Cards Collection Site: Dedicate a website on buying, selling and trading your favorite cards, whether it's Magic: The gathering or Baseball cards from the 80's.
Career Guides: Be a guru and teach others how to be a professional in a field! Hint: Sell an eBook.
Educational Sites For Kids: Create an E-Learning site for kids.
Infographic Website: Create unique and useful digital infographs and post as a blog post.
Singing Lessons website: Setup a singing your heart out website and offer singing lessons to your loyal fans.
Polls and Surveys Website: Create a site with surveys and polls to learn about others.
Cheat Sheet Blog: Teach people how to pass something, like an exam.
Walk w/Me website: Start a Walk with me site where you log your walking routes, and ask others to do the same.
Product and Services Comparison Site: Talk about and compare two similar products or services. And get companies to pay you to review them!
Resource List Site: Create a site full of resources to other things. Gain massive traffic and rank high in search engines.
Origami Website: Where you show step-by-step photos of your process. Sell an eBook on Origami making!
Company History Site: Talk about the history of companies and how they came to be.
Troubleshooting Site: Pick a subject and become an expert at that, helping others trouble shoot their issues.
Fashion Blog: Write about popular fashion styles and tips, and upload videos showing it off.
MMA forum: Create a WordPress powered forum about MMA and invite friends to join in on the conversation!
Poems Website: Write your original and compelling poems online, and share with others your passions.
Personal Music Website: Start spreading the word about your musical talents and show off your mad skills!
Donation website: Make up an interesting story and ask people to donate.
Experimental Site: Create a website where you use yourself as a human experiment, and then document it all.
MLM Website: Become an MLM guru and recruit others online, via marketing funnel.
Play The Guitar Site: Make videos and teach others how to play the guitar.
Get Rich Quick Site: Where you try to get money from people. I'm sure it works.
Stamp collecting website: Show off images of old and antique stamps.
What Would You Do Website: Where you create hypothetical situations and ask readers, what would they do?
Roadkill Site: Take pics of roadkill and upload them to your site. People will love it or hate it.
Celebrity Site: Dedicate a blog on a certain celebrity and stalk them online. Follow their every move and blog about it. Gain many followers.
Politics Website: Create a site on your political views.
Zorbing website: Teach others the art of zorbing and upload funny videos.
You Deserve It Website: Create a site where others can tell stories about getting revenge.
Retro Website: Create a retro site with scrolling marquees, snowflakes falling and mouse trails.
Food Diaries Site: Eat food, video tape, review and do it again.
New Ideas Blog: About creative ideas that others can suggest and comment.
Learn a Foreign Language Website: Learn how to speak a new language and write about it! Show others your struggles, what helps you and your learning process.
Self-Help blog: Encourage and motivate others with a self-help blog.
Top 100 Blog: Create a blog dedicated to the top 100 of a certain subject(s).
Please Don't Hack My Site Blog: Create a site asking hackers to not hack it.
Fishing site: Tips and tricks on how to fish in your area, and upload viral videos of you fishing.
Save The World Blog: Write about saving the world and world peace.
Catfish Blog: Pretend you're a young attractive lady but then when some guy comes to meet you, you're actually an older mom.
Cat Lovers Website: Blog about cats and share funny photos on your website. Try cats licking each other.
Compilation Blog: Create a site that compiles everything of a certain niche. It could be videos, photos and sound clips.
Long-Distance Site: Tips and tricks on keeping a relationship fresh even at long distances.
Hiking blog: Capture the excitement of hiking and back-packing in a non-edited video blog, while you're on the go!
Hash Tag Website: Create a site where you make everything a hashtag, and probably get Penguined by Google.
Meme Site: Collect images of memes and post it on your blog.
Dating Tips Website: Give tips on dating and how to meet people online and in the real world! I've personally tried this, it's fun.
Online Marketing Blog: Make a site and teach others to be successful with internet marketing. You probably want to be successful yourself, first.
FanFiction Blog: Write made-up stories of your favorite movies and books.
Paint-balling website: Put a Go-Pro on your head and record videos of you paint-balling. Upload to YouTube and embed on your own website.
Split Personality Blog: Write as if you were someone else, and gain a fan base!
Research Blog: Do major research on a certain subject and go in depth on the situation.
Am I Cute Blog: Post pics of yourself and ask people to rate you.
White Water Rafting Photo Album: Create a fun picture blog on your white water adventure rafting and create a Facebook fan page.
It's a Long Story Blog: Write a novel and post it as a series or chapters in your personal blog.
Photo Bombing Blog: Take pics of you photo bombing and blog about it.
Stop Motion Blog: Dedicate a blog on stop motion photography, and objects dancing to Gangnam Style.
How to Gain Weight: A reverse site about gaining weight and helping others do the same.
Gold Digger Website: Make a site about how to gold dig, and mislead the opposite sex and get rich.
Cake Pop Site: Make cake pop designs and sell your cook-book online.
The Ex Page: Dedicate a site on your ex-lover, and blog about all the messed up things they've done. At your discretion.
Church Website: Create a community online for fellow church goers, if they don't already have a site.
Copycat website: I had to throw this in – copy another website's idea and make it your own (I don't mean literally copying content because you will get in trouble for that!).
Dinner-tainment Blog: Become a dinner making machine and upload pics on your new creations!
Confessions Forum: Create a WordPress powered forum that allows users to make confessions online, and have others respond.
Highly Debatable Website: Create a site that always takes the other side, and play the devil's advocate.
Color Blind website: A site that tests your color blindness.
Advertisement Site: Sell space on your site just to advertise. I don't suggest this though, by itself.
Meditation website: Where you have your own meditation podcast and a blog on tips to a better mind.
The Nothing Website: Make a site about nothing and just leave it blank.
Choose your destiny Blog: Create a blog where you give the reader different paths at the end of each page. A different outcome every time they play and read!
News Website: Capture the latest news first, and share with social media sites! Gain traffic and become a journalist on your own.
Star Gazing Website: Offer your galactic advice on the stars and universe through photos and a blog.
Quotes Website: Create original and inspirational quotes, and share on social media networks.
Family Tree Site: Make your family tree and share with your whole family.
Holiday Website: Create a site for all the holidays and sell eCards during those seasons.
Long Bow Tips: Make a site dedicated to how to use a longbow, shooting techniques, and video tutorials.
Zombie Website: All about Zombies; Zombie shows, movies, books, and podcasts. Reviews and quizzes.
Sports Blog: All about your favorite things about sports.
Online Web Store: Why not sell something or a service you provide?
And finally, create a website on making a website! Like this website. It's fun, and you can learn as you go. Plus you can link back to me or write a guest post here to link back to your own website about making websites!
Funny Clips Website: How about a site with your favorite vine, Instagram, YouTube or original funny videos?
Build your website now using AbcSubmit website editor and go live in minutes.
You can create whatever you imagine using our website builder.