Video (YouTube) field – Documentation
Videos are a great way to attract more users to your forms or websites, and to make your social network spinning.
AbcSubmit drag and drop website / form builder allows you to insert Videos from YouTube into your Forms and Websites, and to customize their playback behavior or visual appearance.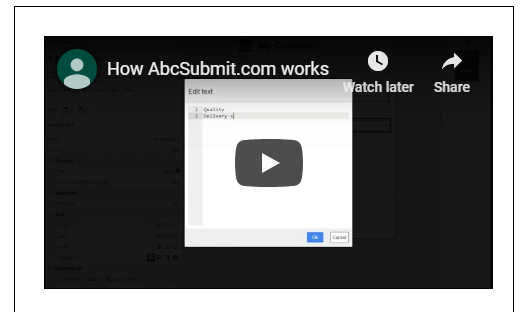 1. Video
From this group of settings you can choose the link of your video, or set it's playback behavior.
1.1. YouTube video link
Type here a link pointing to a video page on YouTube:
Such example can be: //www.youtube.com/watch?v=-IWdJen9yTw&t=63s
1.2. Loop forever
There are scenarios when you want your video to be automatically restarted when it ends. Especially if you have a video presentation you want to loop on your website. Set to YES to enable this behavior.
1.3. Auto play
Set to YES in order to make the video auto start when the user loads your form / website. Please note that on mobile devices this feature does not work because of the network traffic might get generated without the user consent.