Top 10 free order form templates you can publish anywhere
Need some stunning order form templates to start from?
AbcSubmit free order form templates are highly customizable and mobile-ready. Choose one of our order form templates to create your own payment form in minutes. Sell any products using reliable eCommerce solutions. Our order forms can be integrated with payment gateways like Stripe Checkout, PayPal Checkout, Braintree Checkout, Square and cash on delivery.
Create food order forms, purchase order forms, clothing order forms, services order form and so on. With AbcSubmit flexible order form templates sky is the limit. Use our free form templates to create payment forms faster and start collecting payments in no time.
Available order form templates for Weebly and WordPress through native plugins.
Free Customizable T-Shirt Order Form Template
Whether you're operating a small retail business or need a customizable T-Shirt Order Form sample for nonprofit fundraising we've got you covered.
One can quickly personalize our t-shirt ready-made template on AbcSubmit, starting them from scratch can be really challenging and time-consuming. That is why different types of order form templates are in existence to ensure such business people save their time and energy. You can easily start your own t-shirt order form from scratch, add product images, prices, change colors and fonts, add payment gateways like Stripe, Square, Braintree, etc and publish your form on any website using our JavaScript embed code.
What do you get with AbcSubmit T-Shirt Order Form Sample?
With AbcSubmit's free T-Shirt Order Form Template you get real products field so your forms will look professional. To use this custom product field on your forms you have to go to marketplace an install our Custom Product widget.

PayPal and on-site cash are our free payment processors, so you can use them even with the free plan.

Customizable order thank you page.

Custom t-shirt form design.

Shopping cart

Product variants(Size, Colors, etc)

Export order in Excel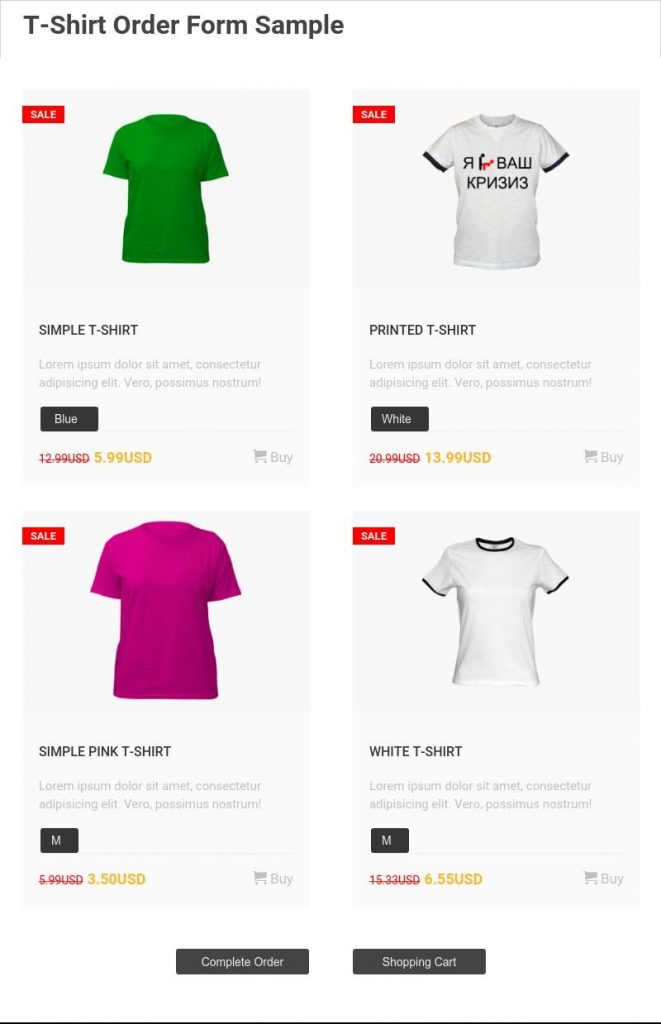 Free PayPal Payment Form Template
Simplify online payments for your customers to increase conversions and collect more revenue with our PayPal order form sample. Collecting payments made easier with AbcSubmit's PayPal integration. AbcSubmit makes it easier to automate the purchase process on your website, saving you time and energy.
Your clients can pay using PayPal and see how much they owe and you get notified by email when payment is complete. You can also customize payment email notifications, add advanced pricing calculation, create donation forms and save your customer information in a database collection.
Capture online payments from your landing pages, eCommerce website or any other website using our ready-made PayPal payment form template.
Advantages when using our ready to use PayPal order form?
free PayPal integration.

real-time shopping cart summary.

payment notifications and autoresponders.

multiple payment gateways(Stripe, Braintree, Square, etc).

highly customizable form design.

field-based payment calculation.

printable order form template.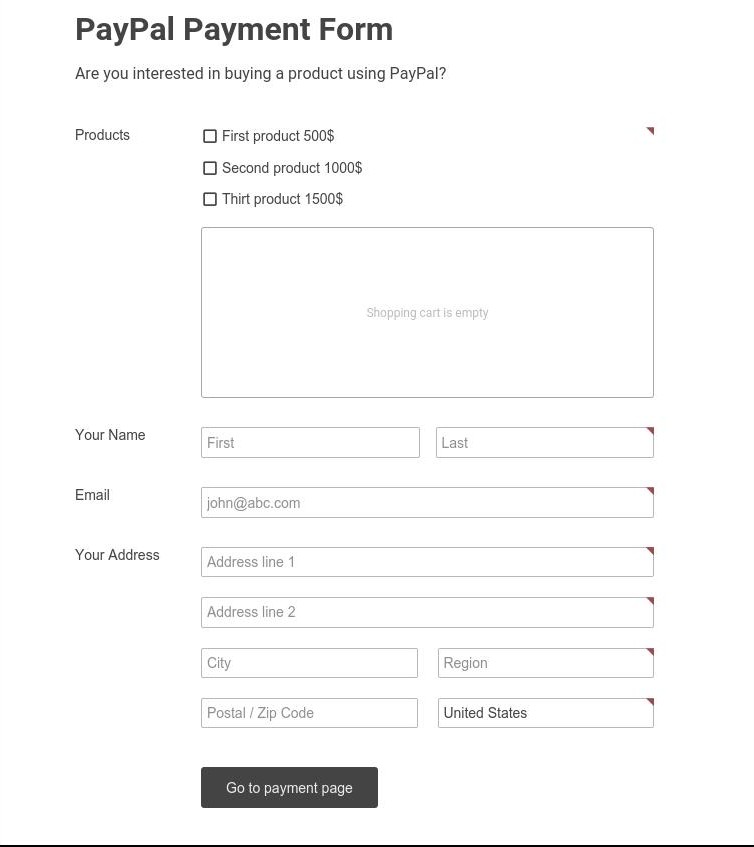 Free Bio Products Online Ordering Form Template
By using AbcSubmit's free Bio Products Online Ordering Form Template you can easily add your own products, change the design of your form, add your own texts and fonts.
This product ordering form template was made with the help of our product field. You can modify the call to action text, product title, choices, description, price, product unit type, and the product image. The product has also three display designs: image left, image top and image right, the picture right design was used for our ordering form creation.
Your clients can pay using one of our world most used payment processors and you can also customize the details your clients receive on order completion. All your details about the payment, order status and used payment gateway will be displayed in the submissions section.
This template can help you create your order form faster but you can always start creating you order form using a blank order form template.
More features when using Bio Products Online Ordering Form
multiple payment gateways.

free shopping cart.

order form approvals.

unlimited product fields in your form.

unlimited pages.

shipping taxes and discounts.

fixed amount price.

custom thank you page.

custom page for payment failure.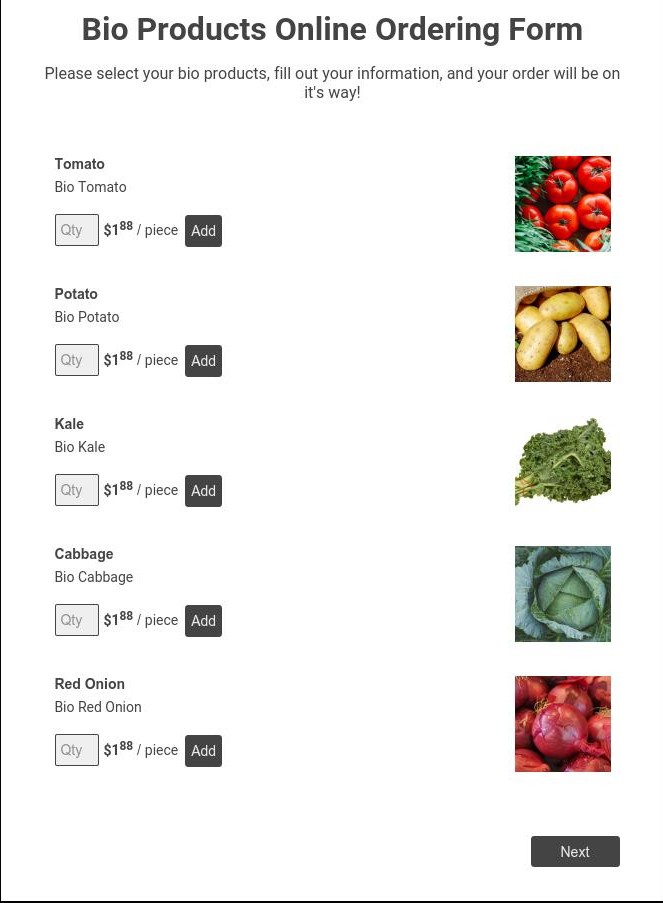 Free Product Catalog Order Form Template
Our free product order form template is the best way to create an online order form to sell any type of products and to collect payments on your own site.
This simple product catalog form sample collect details about the order, product selection (quantity, color, size, other options, and variants) and gather the customer's contact information through cash on delivery integration. It should provide your organization contact details, ordering process details and call to action. A professional order form is an essential step in completing the purchase.
If you need to sell your portfolio of products or services through multiple outlets a product order form with an easy to use professional product order form templates could be vital to your business. If you are not a graphic or brochure designer and the thought of investing hundreds to engage one is not for you then its well worth considering an online form builder app like AbcSubmit.
Advantages of product catalog form on our online form builder
show categories for products.

offer a search for products.

custom product catalog design.

price filters for your products.

products sorting options.

import your products directly in our shop

free order form template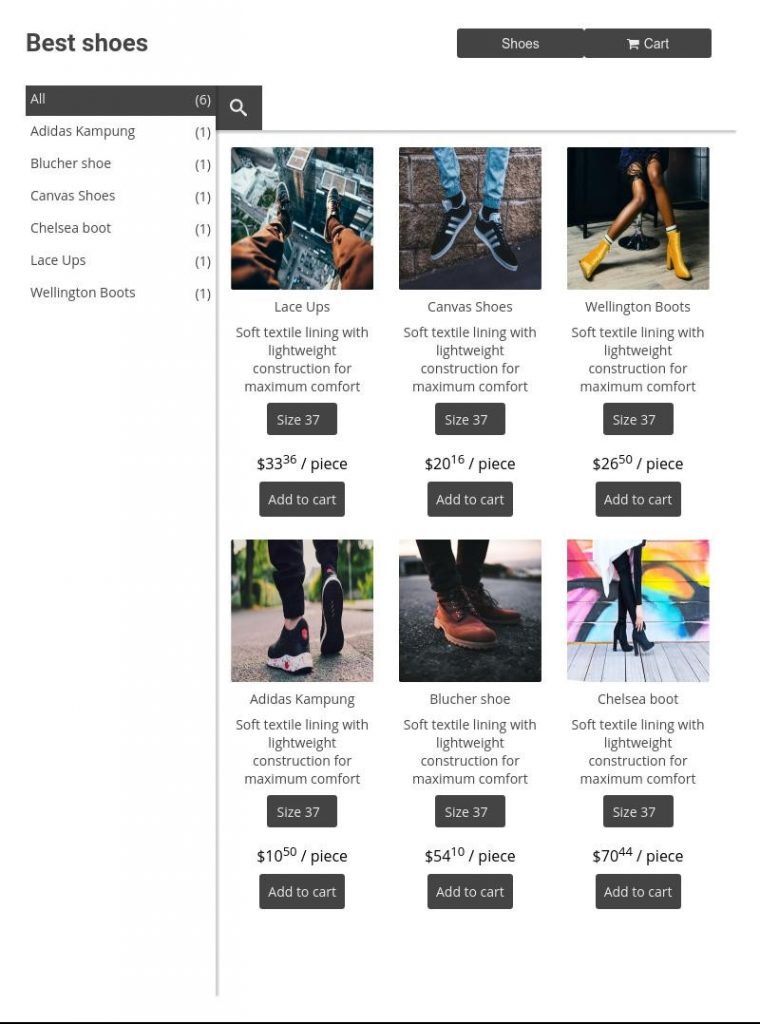 Free Shoes Order Form Template
Find out the shoe buyer's info and variants through this shoe order form sample. This is a short and simple shoe order form that captures personal and address information for delivery, the shoe size and quantity. The payment tool used by this shoe order form template is cash on delivery.
You can, however, replace the cash on-site payment tool when you edit this form and use the other payment tools available like Stripe, Braintree, Square, etc. Our payment tools enable you to accept online payments through multiple payments processors. When this sample shoe order form is submitted, users will have to pay through the payment gateway of your choice.
You don't need an order form template to start with?
You can always choose to create your free order form from a blank form and add all the form elements you need, activate payments and publish the order form on websites like Weebly, Wix, etc. You can also set up your own domain or a free subdomain like shoes.abcsubmit.com fro your order forms.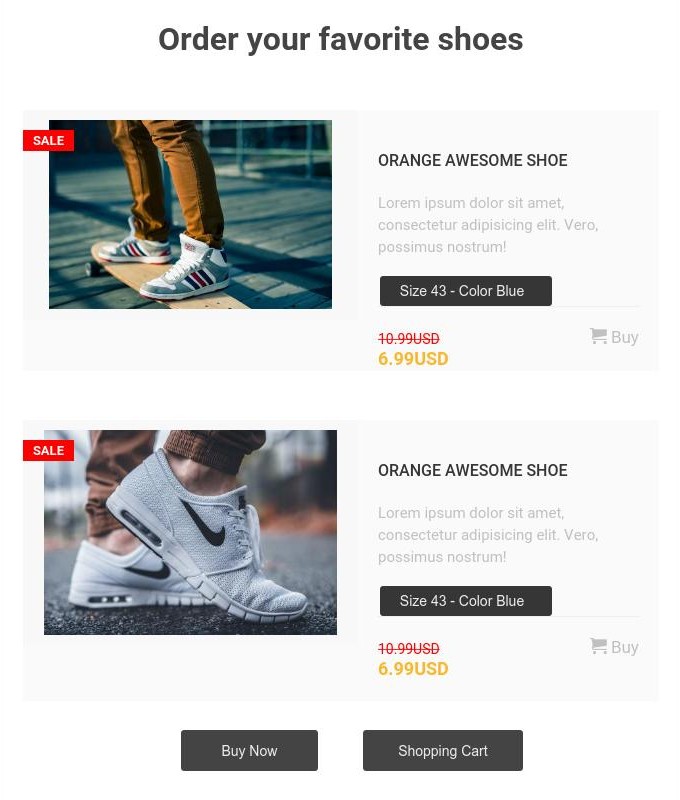 Free Event Ticket Order Form Template
Use this ticket purchase form if you are organizing a concert of your favorite singers or band and accept online ticket purchasing from their respective fans and the public.
This online ticket form allows people to bring their family or friends by selecting the number of quantity of tickets they will buy. Use this ticket order form template for small concerts or concert-for-a-cause events that you are co-presenting.
Advantages when using AbcSubmit's ticket order form sample.
free order form ready to use.

multiple payment widgets.

form sharing on any landing page or website.

rules-based shopping cart.

translations for your form.

collect customer info.

send confirmation emails.

form workflows.

save customers in a database collection.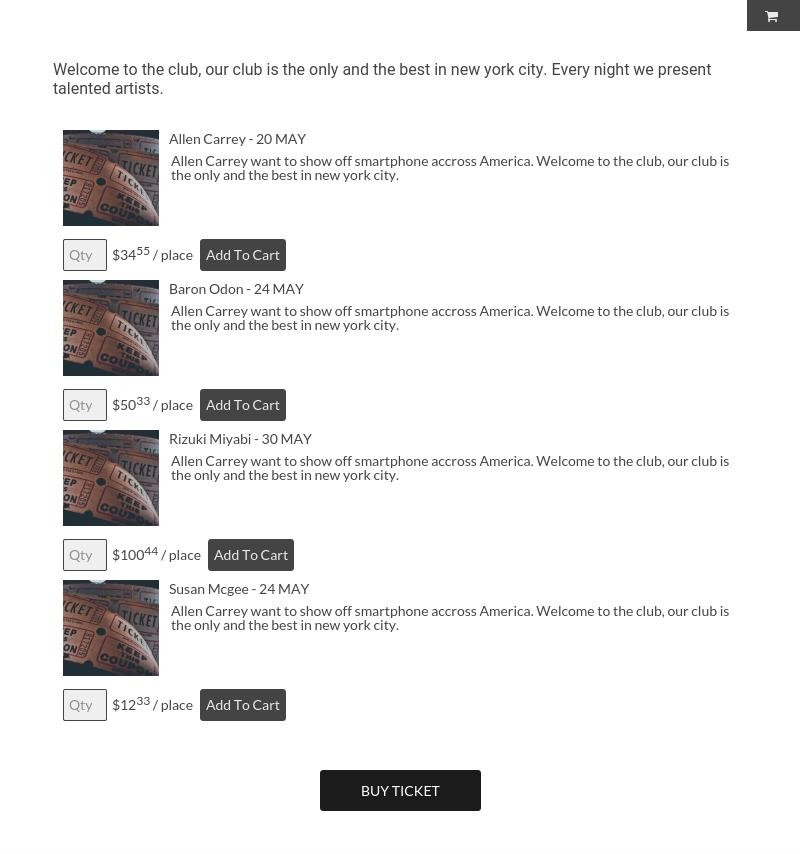 Simple Product Order Form Template
Product order templates are great time-saving business tools. Hundreds of product orders are placed every day and it has always been the responsibility of suppliers and sellers to accurately monitor the exchange of goods and services. This easy, basic free product order form template is a fast way to start selling your products online but also can be redesigned to meet your own requirements.
The template is highly customizable, enabling you to add your own logo and colors, design it to match your brand, enable, autoresponders and add new products to sell using your form link or you can publish using our embed code on any website. You can accept payments online by connecting your form with an AbcSubmit payment partner (Square, PayPal, Stripe, Braintree, etc).
All our forms templates are mobile-ready and fully customizable.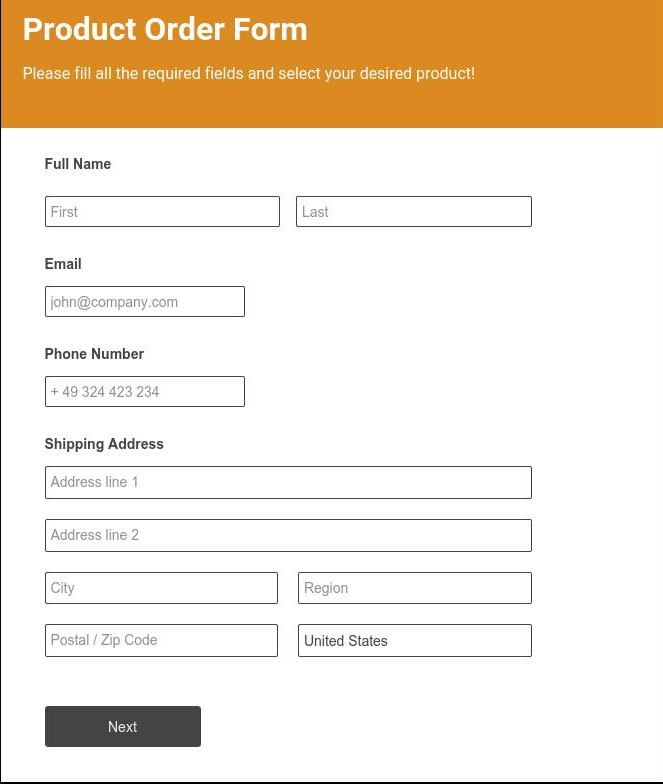 Free Software Order Form Template
In today's modern world, there is a growing need for technology to do all the computation and management processes, and with technology comes the need for software and applications to allow the computers to run properly and efficiently.
Similar to requesting or ordering, let's say, construction materials in real life, requesting a software requires the submission and confirmation of forms and certain data before you will receive your software or application.
Our fully customizable software order form sample can be integrated with our form workflow tool to automate your approvals and email autoresponders. You can easily create a form workflow and assign your team members or department on any workflow step. This software request form is useful when your company has a complex approval process.
You can even set field conditional logic and advanced price calculation if you must calculate a real-time price quotation when the form is filled online.
Share the form with your departments or specific employees and set up advanced user roles permissions. You can create users for your company, manage single or group-based permission and many more.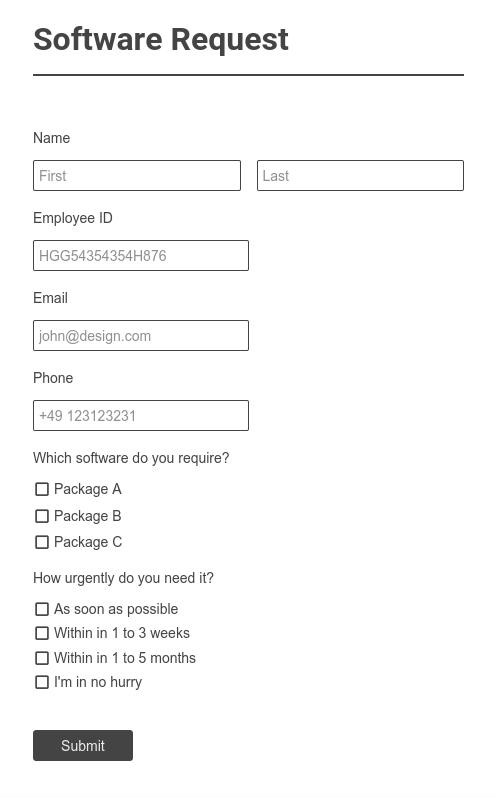 Wholesale Order Form Template
This basic, printable wholesale order form makes it easy to list an entire catalog of items for sale along with wholesale prices.
Customers can list quantities of items they wish to order and provide shipping and billing information. Customize the template by adding a company logo and terms and conditions for wholesale orders, product returns, or payment policies.
Buying wholesale comes with many great benefits:
Saving money – buying in bulk is always cheaper than purchasing individual items one by one.

Saving time – replenishing your stocks by making wholesale purchases is faster than buying items in smaller quantities at a time and the process will allow you to reduce the time spent reviewing your inventory of products and looking for promotional prices and to focus more on promoting or extending your business.
Fully customizable order forms
Mandatory fields

Field rules

Multiple field types

Free templates and themes

Product field

Online ordering & payments

Database collections

Sales Workflows

Approvals

User Roles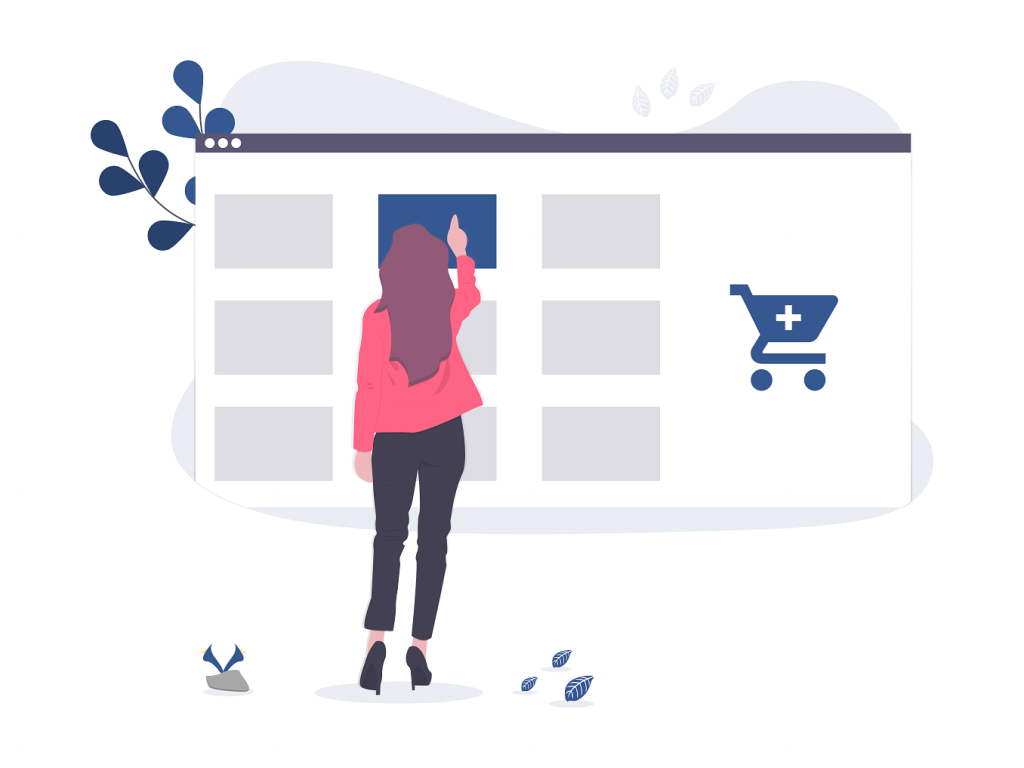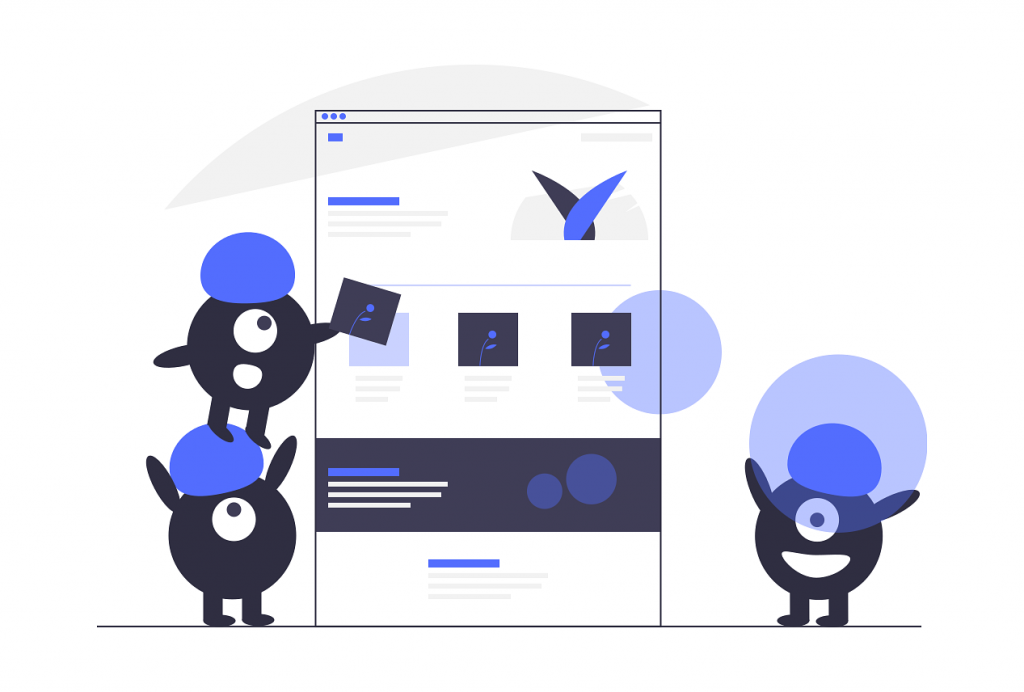 Visual order form builder
No matter you are using ready to use order form templates or create your custom order form from scratch, from a simple form which helps you to receive email notifications to custom forms with advanced design, online payments and workflows, our online form builder gives you all the tools to customize your form fields to match your needs and to start selling in minutes.
Collect your form data in a BigData Collections
By using AbcSubmit Order Form Builder and software you can build free online order forms and connect them with your AbcSubmit BigData Collections.

Whether you want to save email addresses for creating a newsletter, customer contacts or just store your lead data inside a collection, we've got you covered.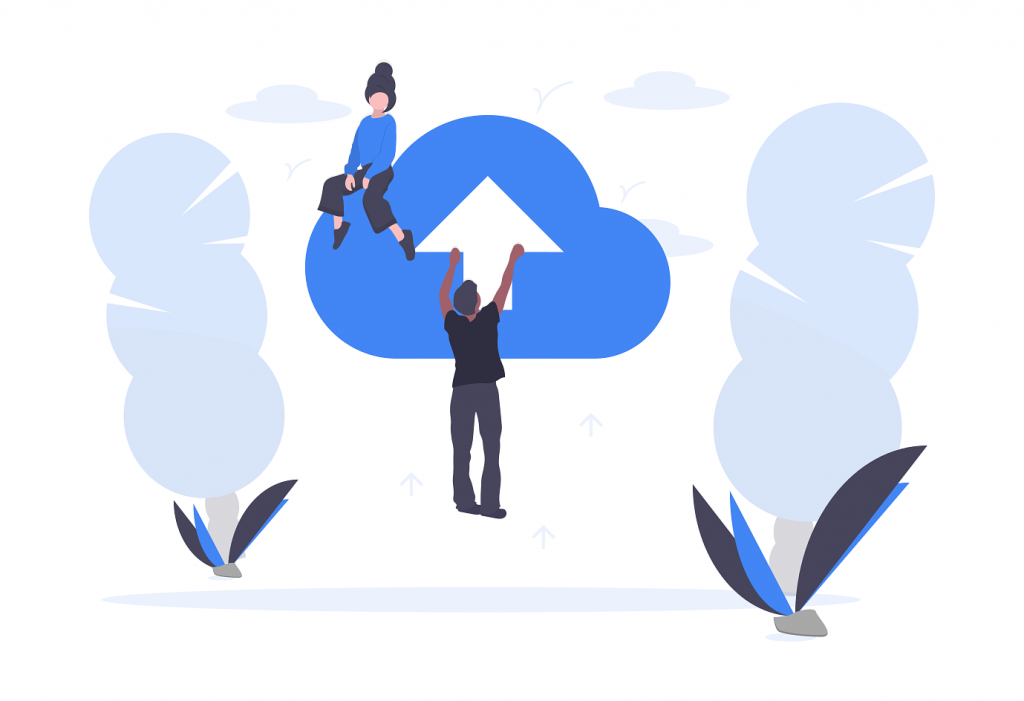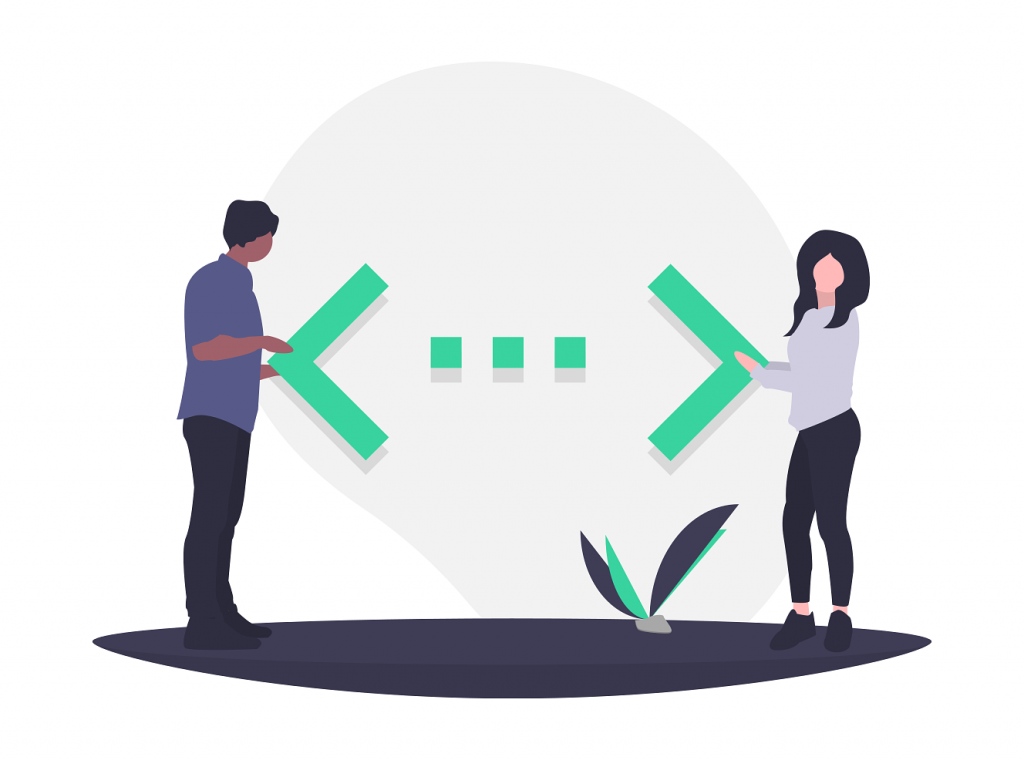 Create more with AbcSubmit Code
It's easy now to create advanced customer order form design by adding custom CSS, HTML and JavaScript logic with the Code Field. You have the power to create custom ordering form features using your collections and the Code Field. Read more.
Highly Customizable Order Forms
AbcSubmit customization features allows making changes with the live result. You can modify header image, background image, colors, font formatting, spacing, field order and much more.
All the AbcSubmit order forms with shopping cart are highly customizable and device ready!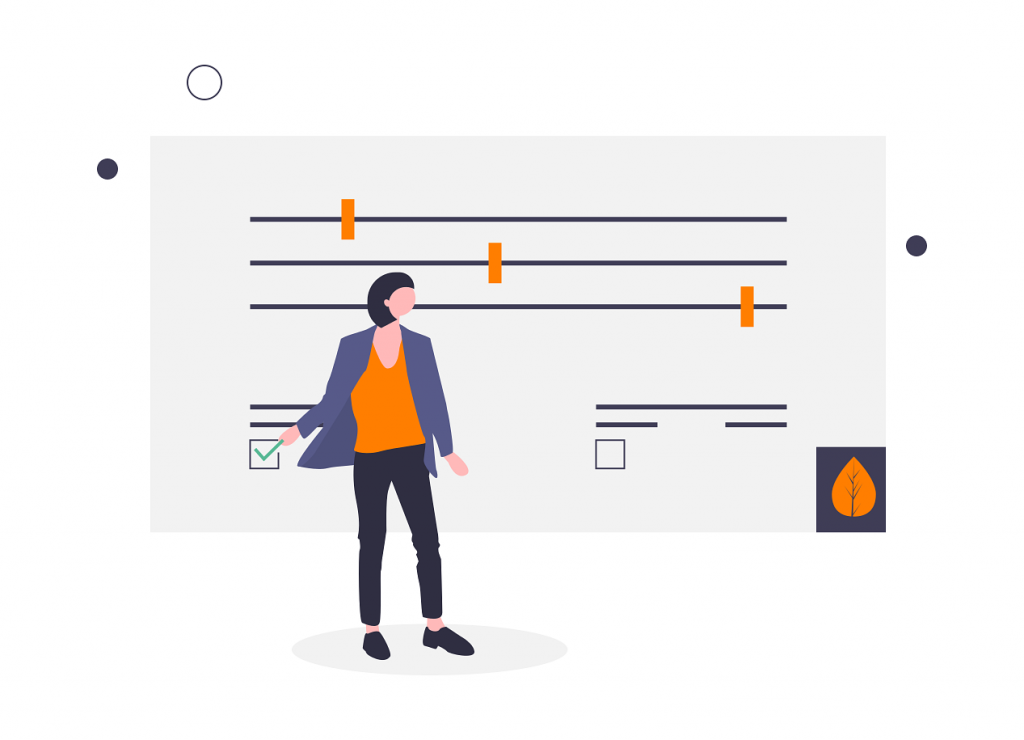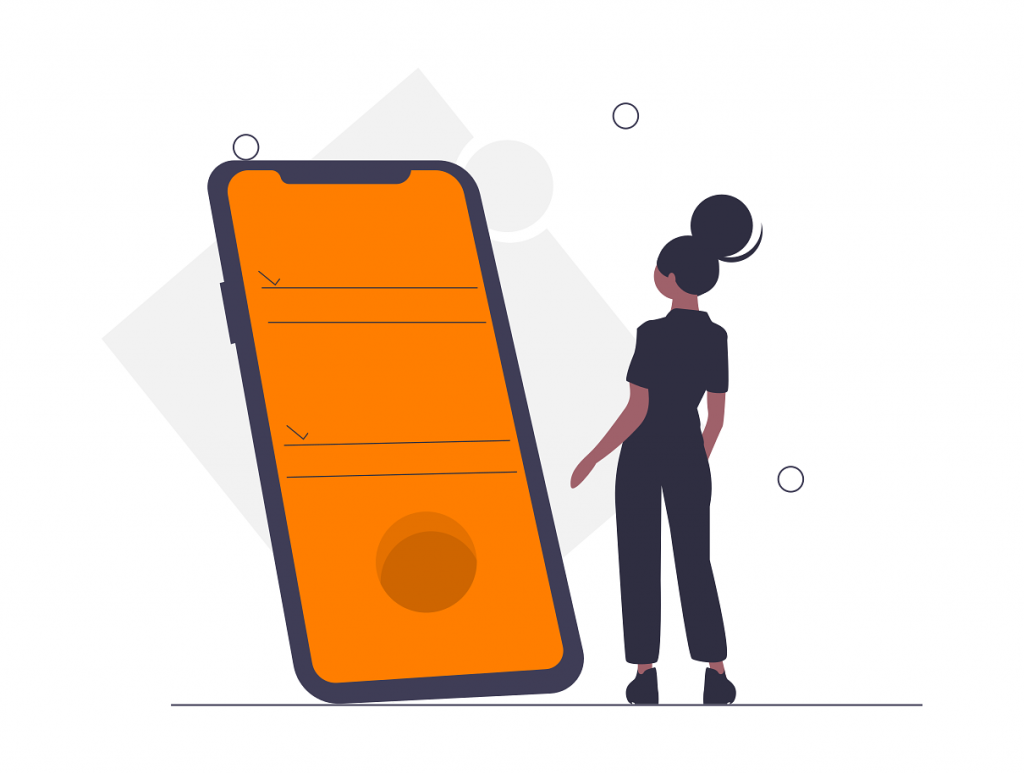 Free Offline Forms
Use our new mobile app for offline form filling functionality. The app transfers all the offline submissions when an Internet connection is available.
Collect offline form submissions from the comfort of your mobile device with AbcSubmit!
Order Form Workflow Creation
AbcSubmit form workflows offer the ability to monitor your workflow and quickly spot bottlenecks.
Effective workflow automation software offers features that give your workflow visibility, such as a step timer to indicate how long each step is taking or a progress indicator to display which step is active at a given moment.
Create effective workflows using our heat map analytics!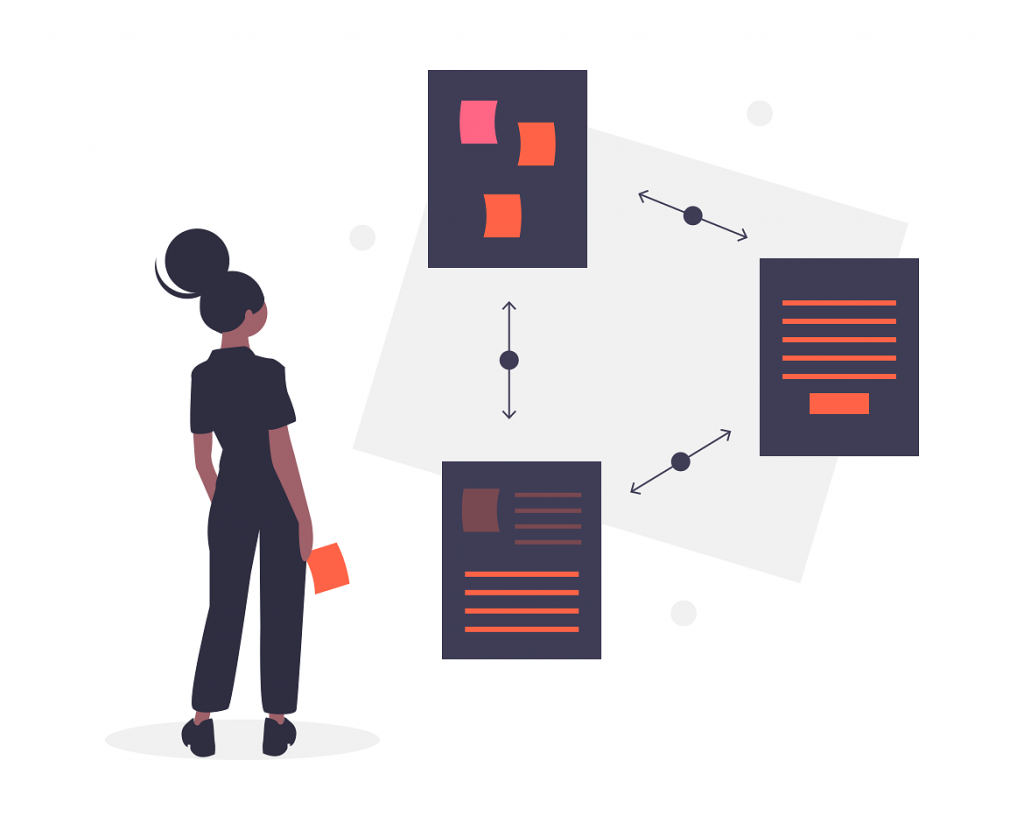 Start creating your free order forms today!