16. PipelineDeals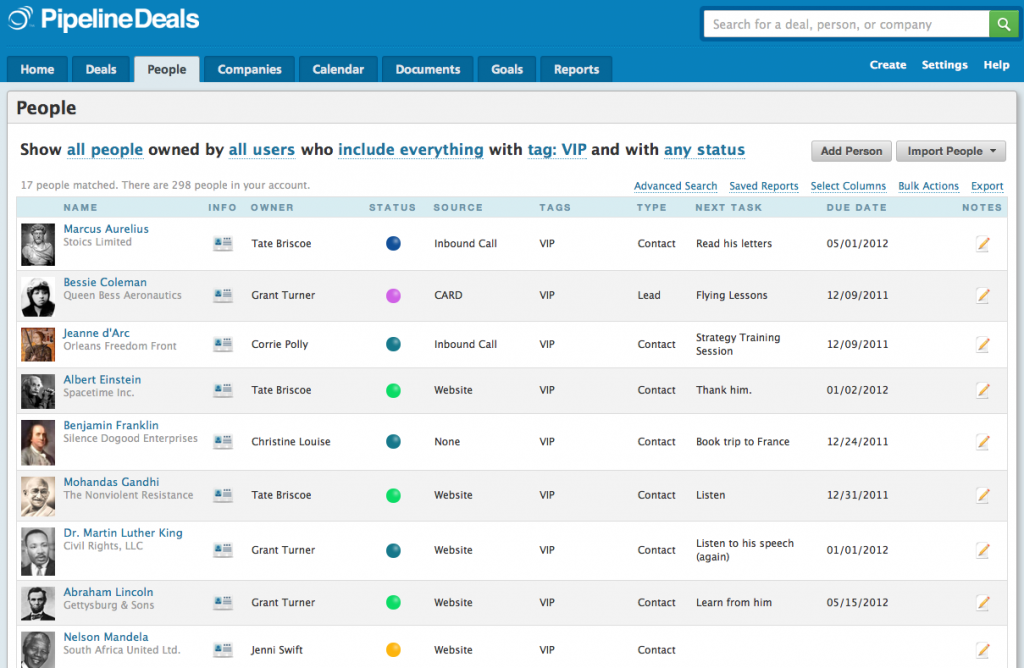 PipelineDeals presents users with a CRM option that does the following and more:
Create and effectively manage stronger customer relations.
Monitor all team activities with just a glance.
Easily organize resources and manpower and then provide them with tasks that fit their qualifications and skills to accomplish more goals in less time.
Optimized for both iOS and Android devices. Go mobile!
Import and assign all your leads to the right personnel with speed and ease.
Explore your data and reveal options and opportunities with just a few clicks.
Create custom reports that are based on the information that you require.
Get regular pipeline updates via your inbox.
PipelineDeals is the first sales productivity platform to combine sales engagement and CRM in one simple application.
With Customer Relation Management (CRM) at its core with a Sales Productivity Platform built-in, PipelineDeals enables salespeople to be more productive and close more business.
With PipelineDeals, users can easily gain access to profiles that contain all of the activities, people, documents, and events related to a single deal. With 225 custom data fields, the platform can be easily tailored to meet a company's specific needs. With the ability to send trackable emails, users of PipelineDeals know when someone opens a message, downloads an attachment, or clicks a link. This allows for immediate and meaningful follow-up.
Sales Acceleration
Email Acceleration Directly In Your CRM – Email, and track email opens, clicks, and downloads. Get the insight you need to know when to follow up and accelerate your sales cycle.
Know what to do and when to do it – PipelineDeals automates your sales process by letting your salespeople know what they should do next based on your unique sales process. Automatically add new tasks when deals advance through your sales pipeline.
Email & App Integrations
Two-Way Integration with Google For Work & Outlook – Sync your calendar, contacts, and email with PipelineDeals. Manage your contacts in PipelineDeals or in your email client, and keep everything updated wherever you search.
Flexible App Integrations – Connect PipelineDeals to your favorite apps using its integrations marketplace, or develop custom integrations using its API. PipelineDeals offers integrations with MailChimp, Google For Work, Outlook, Excel, Google Sheets, Zapier and more.
Deal Management & Lead Management
Improve transparency with your deals –  Deal management in PipelineDeals eliminates redundancy, confusion, and delays by organizing your team's collective knowledge and providing a framework for collaborative sales.
Efficiently manage your leads – Nurture your contacts more proactively and qualify leads faster with PipelineDeals. Activity tracking and email notifications give you the full picture on your calls, email, meetings and more. Know what the next best action is with your leads.
Sales Goals
Set and Track Sales Goals – PipelineDeals offers a simple mechanism in the app for creating and monitoring sales goals. Focus your team around achieving key benchmarks for your business.
Develop Custom Dashboards and Update in Realtime – Many businesses need to have the flexibility to easily export data and develop custom dashboards. PipelineDeals integrates with Microsoft Excel and Google Sheets so that you can develop custom dashboards and update on-demand from the cloud.
Pricing
Start Plan – $25/mo/user (billed annually) or $29/mo/user (billed monthly)
Develop Plan – $33/mo/user (billed annually) or $39/mo/user (billed monthly)
Grow Plan – $49/mo/user (billed annually) or $59/mo/user (billed monthly)